Elevator Pitch
Digipath (DIGP) is a publicly-traded cannabis company focused on lab testing, with an initial focus on Nevada. With a market cap of less than $10mm, a clean balance sheet and substantial revenue growth, the stock stands out among the sector.
Background
Digipath operates a cannabis testing lab in Las Vegas. The company also operates The National Marijuana News (TNM News), though this is not a significant contributor to revenue. Nevada has the nation's strictest compliance requirements for cannabis testing, which makes the market a good one for the labs like DIGP, which operates at 6450 Cameron Street. Here are the required tests: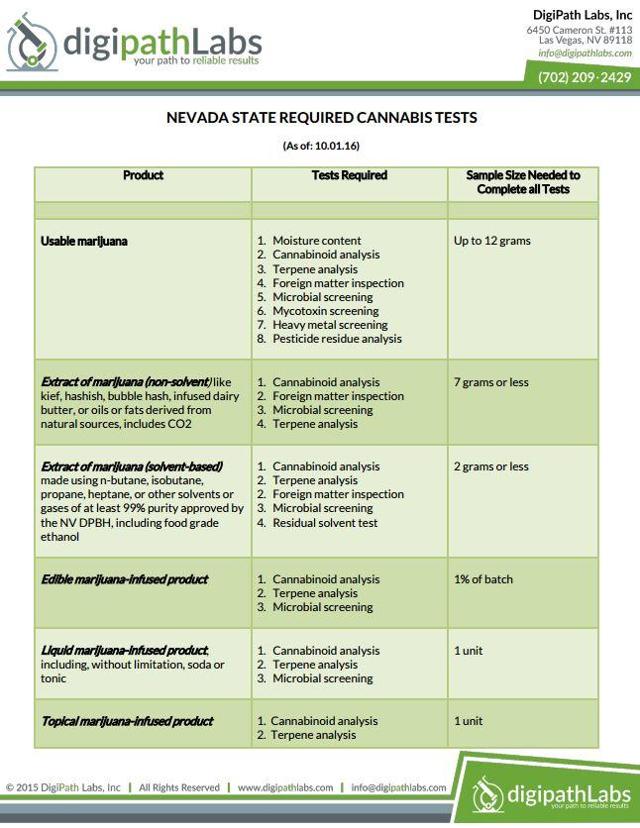 The lab is run by Cindy Orser:
Dr. Orser draws from over 20 years of experience innovating in both academia and private industry. She holds 18 issued patents and has authored 41 peer-reviewed publications. She received her BS in Botany from Montana State University in Bozeman, and was awarded a PhD from the University of California, Berkeley, in Plant Pathology and Genetics. Dr. Orser is the founder of five biotech companies including Adlyfe, Cellphire, Big Sky Biosystems, ASDx Biosystems, and iPDx Biosciences. She has consulted for the molecular and medical diagnostics industry as well as the federal government. For five years, Dr. Orser served as Corporate Senior Scientist and Head of the Biodefense/ Biotechnology Initiative at Areté Associates in Washington, DC, and she was also a tenured professor of biochemistry and bacteriology at the University of Idaho.
Digipath appears to have an early leadership position in Nevada, which is strictly "medical" at present but which will soon transition to legal for adult use.
The company has plans to expand. Earlier this year, it announced a pending acquisition of two mainstream labs in New Jersey/Pennsylvania, and it expects over time to convert these to cannabis ...
Read More